Why Cambridge?
Our unrivalled ESG research base
Our faculty is fully immersed in ESG research, meaning that all deliverables draw on cutting-edge knowledge.
We are the #1 university for sustainability research in the 2022 QS World University Rankings for Sustainability.
We have over 20 research centres dedicated to generating the latest evidence-based research focused on how organisations and individuals can integrate ESG into strategy and operationalise change.
Our innovative green tech ecosystem
With access to Europe's most innovative ecosystem, our programmes engage with the latest technologies, from Green Tech to AI.
There is £1.5bn market value in the Cambridge region.
We are leading the world in self-healing building materials.
Our AI-based research into energy efficiency is already helping to minimise organisational carbon footprints.
We are creating a more circular food economy by integrating waste food into the biofuel supply chain.
Our Unique Specialist ESG Institutes
By working with Cambridge, organisations and individuals gain direct access to a world-leading network of ESG expertise and learnings.
The Scott Polar Research Institute - cutting-edge research into understanding the polar regions of our planet.
The Cambridge University Botanic Garden - leading scientific discovery in and around biodiversity.

The Cambridge Centre for Social Innovation - providing a platform for research and engagement with social innovators and academia
Our Unmatched Track Record
At Cambridge Judge Business School Executive Education we advise governments, organisations and public services around the globe.
This includes governments and public services from the United Arab Emirates, India and the United Kingdom.
We work extensively with some of the world's largest organisations, including global consultancies, world-leading financial services institutions and cutting-edge pharmaceutical companies.
Our research centres actively engage with policy makers, with our Energy Policy Research Group shaping global energy agendas, while the Centre for Risk Studies shapes the climate change mitigation.
Acting on ESG impacts and opportunities is critical to good business today and in the future. It is no longer about simple compliance or addressing the demands of investors; businesses should work for all - the planet, consumers, employees and their community. ESG actions, taken systematically, can help a business stay in business in the long run. That is sustainability: pursuing business activities that operate within planetary limits, enhance social foundations and contribute to the bottom line.
Professor Jennifer Howard-Grenville
There is no time to waste. To avoid continued climate crises, we all need to work together to achieve individual and collective climate commitments. A tailored ESG programme is a key step towards achieving your net zero goals and demonstrating a commitment to a sustainable and equitable future that consumers are increasingly demanding. Take action and set the standard for your company and industry.
Professor Christopher Marquis
Societal activism is a key driver of business success, especially in our changing world. Consumers want to shop with and the best talent want to work at organisations who truly care about diversity and inclusion, who champion social responsibility and who have a positive impact in their communities.
Professor Lionel Paolella
Our connection to the University of Cambridge perfectly positions us to deliver unmatched ESG education programmes. The research we draw from is cutting-edge and our delivery is unparalleled.
Director of Executive Education - Beth Ahlering
We are the market-leading educational partner for ESG learning solutions.
We provide unrivalled and actionable insights for leaders and learners, allowing them to transform their strategies, operations, market presence, business models and themselves.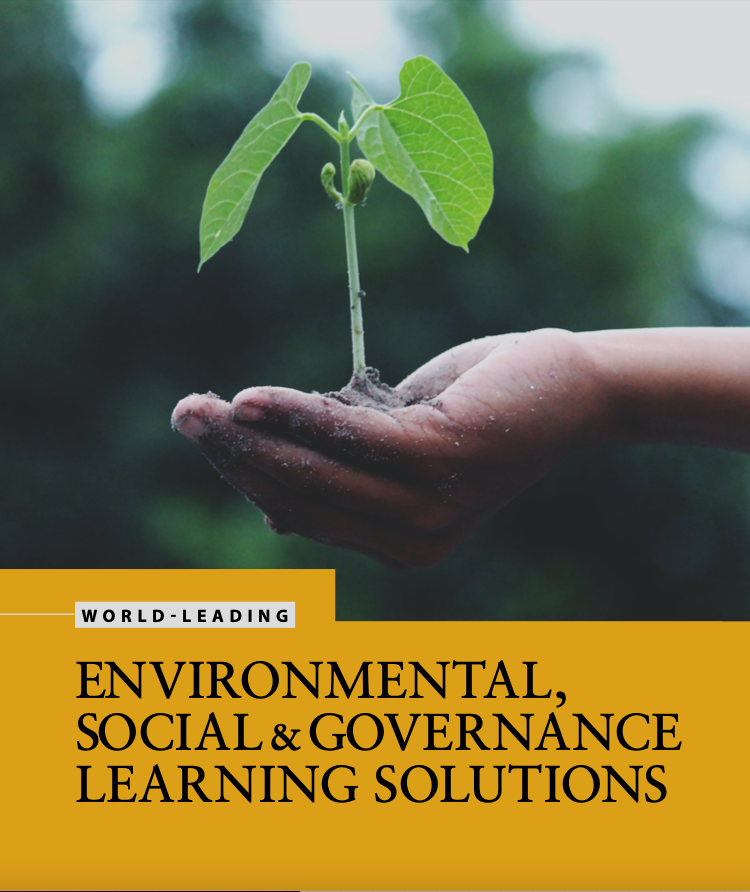 Learn more about our world-leading ESG Learning Solutions.
Designed by University of Cambridge specialists, we are perfectly positioned to provide the knowledge and expertise required to implement transformational ESG change across organisations.
Learn more about ESG, the benefits to your business and how we can help you transform for the future by downloading our brochure.